Sharing the love of dance for 50 years
Founded by Bobbi Powell and Helen Alsbrook in 1967, Bobbi and Helen School of Dance has been inspiring dancers of all ages for over half a century! Conveniently located in the Kempsville area of Virginia Beach our highly trained and experienced faculty offers the best in dance education focused on traditional family values fostering a love for dance that builds confidence and cultivates a lifelong healthy lifestyle.
Kelley Powell Schlaepfer
Kelley began dancing at the age of 2 under the direction of her mom, Bobbi Powell, and Helen Allsbrook, founders of Bobbi and Helen School of Dance. She furthered her dance education at Broadway Dance Center, Steps on Broadway, and various workshops and dance conventions to include instruction by Mia Michaels, Tyce Diorio and Wade Robson. At the age of 16 Kelley began her teaching career.
At 19 Kelley changed the direction of her path to pursue a professional performing career. She spent 7 years as a featured dancer, dancing and singing at Kings Dominion and Kings Island and moved on to directing and choreographing shows for the various theme parks within Taft Attractions, Kings Productions and Paramount Parks. In 1989 Kelley was one of six performers chosen from hundreds to perform for our troops in an overseas, Department of Defense USO Show touring Korea, Japan, the Philippines, Indonesia and Australia. Kelley also had the pleasure of performing in several Industrial Shows with such celebrities as Ben Vereen, Tony Danza, Lee Greenwood, Florence Henderson and Nell Carter.
In 1992, Ray Kennedy Entertainment hired Kelley for their cruise line and she traveled the world dancing and singing aboard various cruise ships including the renowned Queen Elizabeth 2, the Sagafjoord, the Crown Monarch, the Crown Jewel and the Enchanted Isle. A few of her musical theatre credits include Victoria (The White Cat) in excerpts from Cats, Baby in excerpts from Sweet Charity and Louise in excerpts from Gypsy. After 3 years performing on cruise ships, Kelley moved into a director/choreographer position with Crown and Cunard Cruise Lines.
Kelley is excited about her new ownership role at Bobbi and Helen School of Dance! In addition to teaching at the studio, she is also the advanced and beginner tap teacher for the Musical Theatre Department at the Governor's School for the Arts.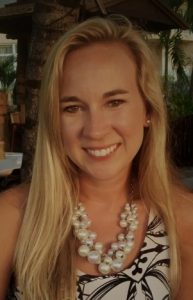 Jenna Porter
Jenna Porter is one of a kind! She has been dancing for 26 years at Bobbi and Helen School of Dance. While taking classes at our studio, Jenna began student assisting classes as well. She has received her Graduate, Post Graduate and Artist Graduate Diplomas from Bobbi and Helen School of Dance and has been teaching tap, jazz and ballet at our studio for 7 years.
Jenna attended Old Dominion University for both her undergraduate and graduate degree. She received her Bachelors of Science in Interdisciplinary Studies- Teacher Prep, PreK-6 with a minor in Special Education in 2012. She then received her Master's Degree in Elementary Education in 2014. She has been teaching at a local private school since 2014. She has taught both first and second grade in her first three years of teaching. She has also taught dance classes for students with special needs.
Jenna is a wonderful attribute to our studio. School teacher by day, dance teacher by night, she dedicates her evenings to sharing her love of dance with our students.
regina kretzschmer
Regina Kretzschmer has been dancing at Bobbi and Helen School of Dance for 45 years. While studying tap, jazz, and ballet, Regina participated in our Student Assistant Internship Program. She has received her Graduate, Post Graduate, and Artist Graduate Diplomas from Bobbi and Helen School of Dance and has been teaching at our studio for 15 years. Regina teaches our Beginner Adult Ballet Class and our Intermediate Adult Tap Class on Tuesday evenings. She also works in the Insurance Industry and loves Ballroom Dancing.